zstefanovic
Starting Member


Serbia
65 Posts

Member since 25/05/2007

Posted - 21/05/2018 : 20:03:48




---
Na prethodnoj strani topica vam je spisak stripara sa Fakulteta primenjenih umetnosti, Beograd...


quote:

---

Originally posted by Aco
2. Da li postoji snimak zvuka drndafona na menifestaciji?


---


Ne, nismo snimali događaj, to nam je sve češće odluka - da bi ljudi morali da se pomaknu iz kuće ako hoće pravo iskustvo. Ali smo drndafon puštali iz filmova. Naravno, njega je Peđa Isus napravio nezavisno od Gaše, ali je genijalnost Đorđa Dimitrijevića bila u tome što je gašofon tretirao kao čudesni ali realni instrument drndafon.

Evo kako to zvuči:

Geometrija Lepenskog vira (aka Maštom u Lepenski vir, 1970)

https://www.youtube.com/watch?v=ZaZLzfgOMzo

Isečak iz Hasanaginice (1967)
https://www.youtube.com/watch?v=l38BuHBfp-Q
---
Edited by - zstefanovic on 21/05/2018 20:05:32

Aco
stripovi.com suradnik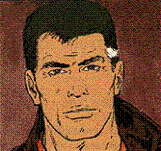 Slovenia
5222 Posts

Member since 29/11/2001

Posted - 21/05/2018 : 21:03:40





---
Ok, nakon ovog iz Hasanaginice, sve je jasno.
Hvala.
---
Bond.James Bond.